Our Top 20 Favourite Golf Bloggers
Where do you go when you want to get your golf fix? Whilst we love talking golf with our friends and coaches, sometimes it's nice to get a fresh perspective. Providing unique and entertaining content, golf blogs are the perfect way to keep up to date no matter where you are. 
With plenty of golf bloggers to choose from, it can be hard to know which ones to follow. Whether you are looking for the latest golf tournament updates or need golf holiday inspiration, you'll find the blog for you in our top 20 favourite golf bloggers. Read our guide to find out which ones you should be following!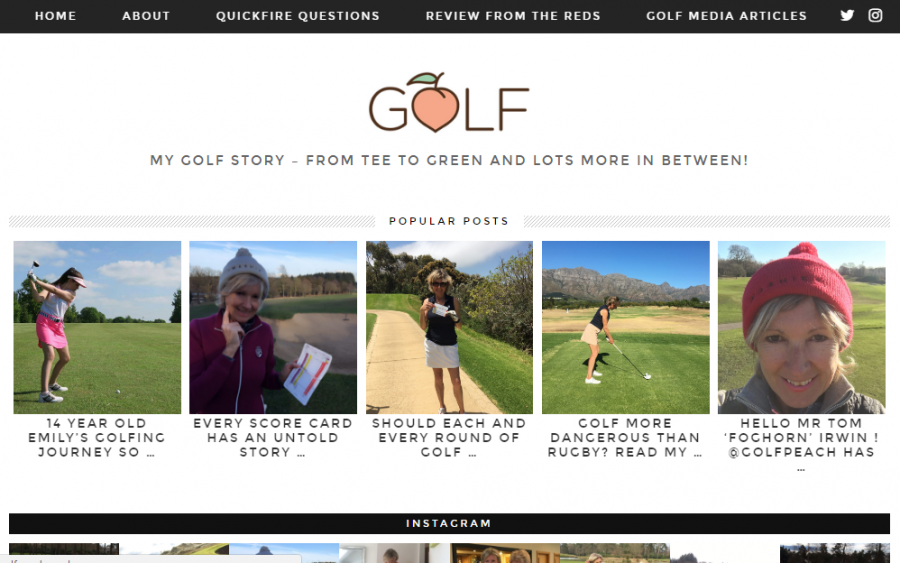 20. Golf Peach
After taking up golf 4 years ago and catching the golf bug, Golf Peach is written by Susan Tyldesley. Sharing her progress, the blog features reviews of some of the best courses as well as in-depth golf discussions, making it the perfect place for beginner golfers to share their passion for their new sport. With previous posts being featured in the likes of Golf Monthly, Lady Golfer Magazine and WomensGolf.com, expect to see a lot more from Golf Peach in the years to come.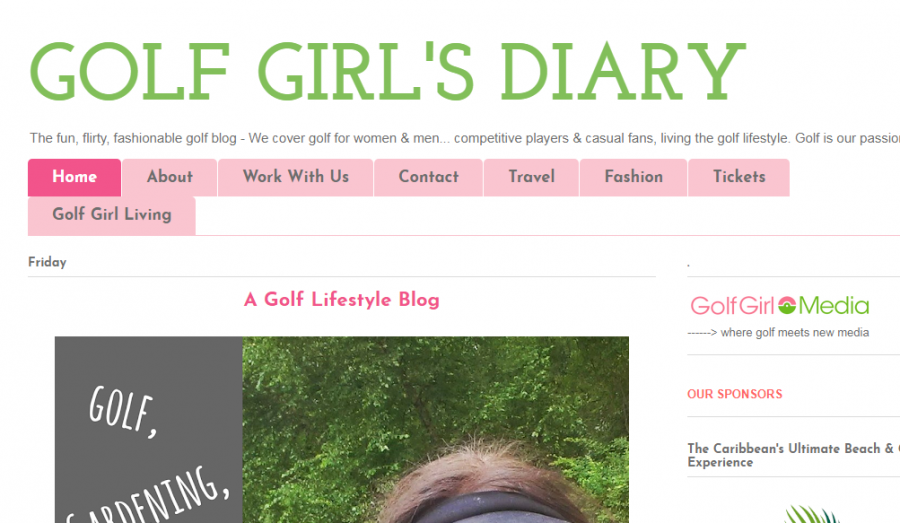 19. Golf Girl's Diary
One of the first independent golf blogs edited by a woman, Patricia Hannigan writes for both "men and women, competitive players and casual fans". Featured on the likes of Good Morning America, Golf Girl's Diary shares course fashion and details of her golf travels. When not bust blogging for Golf Girl's Diary, Patricia is running her own media company, 'Golf Girl Media'.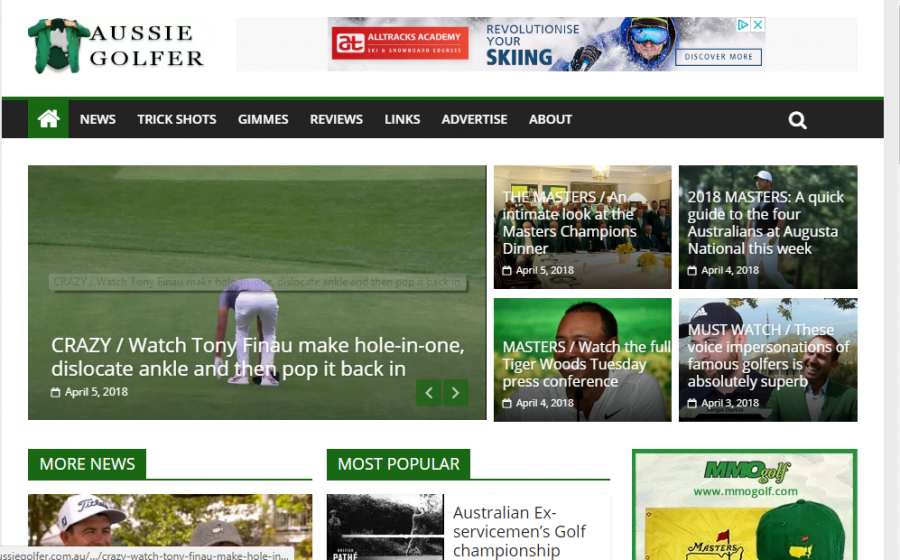 18. Aussie Golfer
Based in the land down under, Aussie Golfer is written by Michael Green, a self-confessed golf obsessive. Established in 2007, Aussie Golfer is the place to go for golf lovers wanting to keep up to date with the latest golf news, find useful product reviews and get tips on improving their swing. We love the 'best trick shots in the world' feature, and his 'fun' section is hilarious.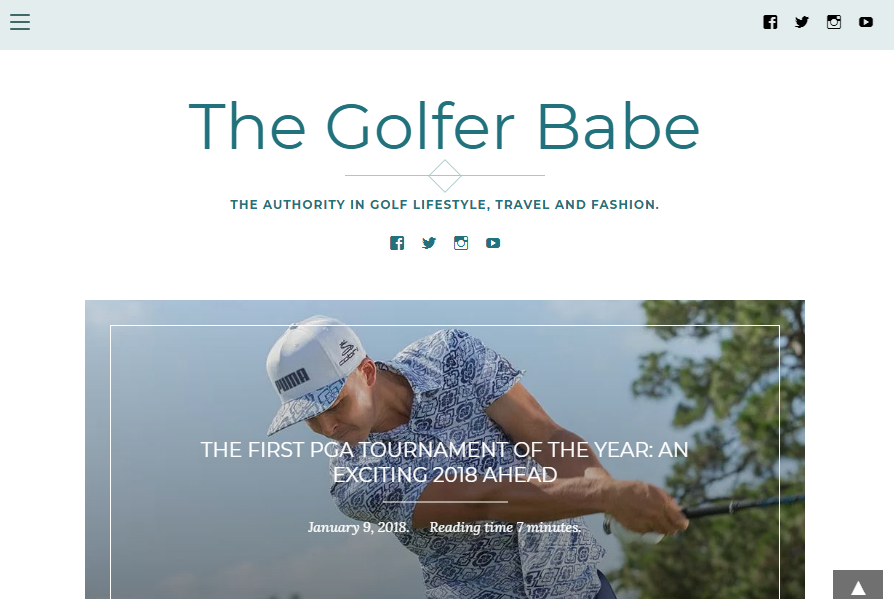 17. The Golfer Babe
Written by an amateur golfer, Amy Sifontes, The Golfer Babe combines a love of marketing and golf to create a hub of industry news and reviews. Whether she is sharing advice on when to take a golf lesson, or why golfers need to use more sunscreen and sun protection, this is the perfect blog for someone who is relatively new to the game but passionate about the sport.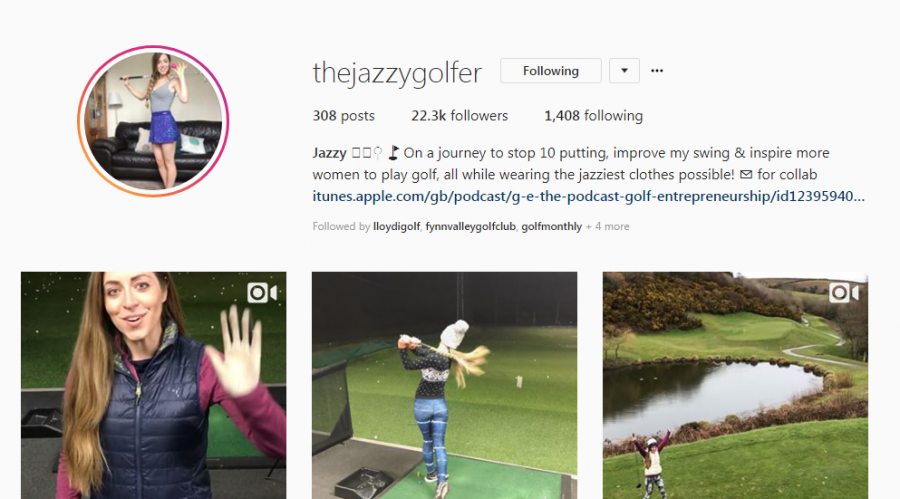 16. The Jazzy Golfer
More of an influencer than a blogger, we had to include The Jazzy Golfer in our top 20! Aiming to inspire more women to play golf whilst improving her own game, The Jazzy Golfer has earned an impressive following on social media. 
Posting photos of her progress and fashionable outfits, she has gained over 22,000 Instagram followers alone! She recently spoke about how golf clubs can appeal to a younger generation at the Lancashire County Conference, so we're looking forward to seeing what she does next.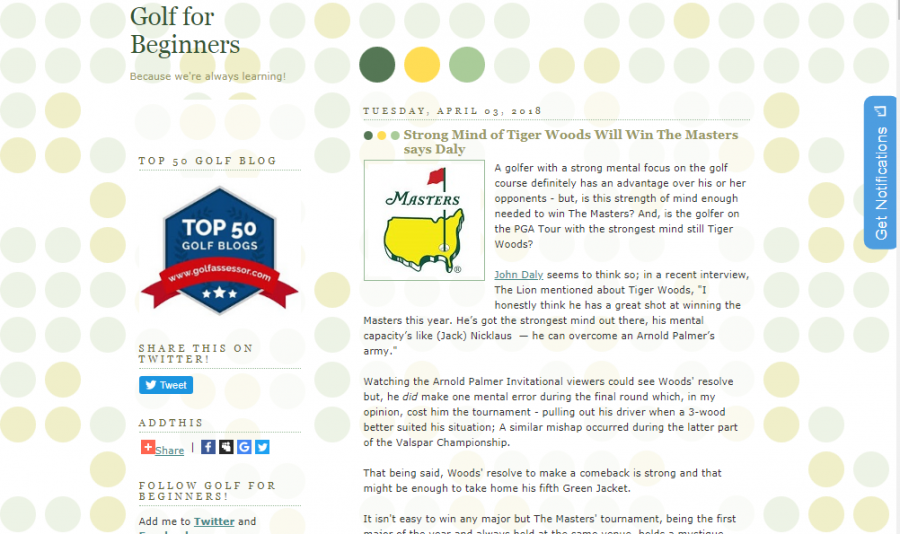 15. Golf For Beginners
It's easy to forget that everyone was a beginner once and technical blog posts and in-depth videos can be a little intimidating. Sharing all her lessons and tips, New York native Stacy Solomon has documented her progress from the start of her journey. Combining her own experiences with product reviews and tour news, Golf for Beginners is the perfect place for new golfers to build their confidence and develop their technique.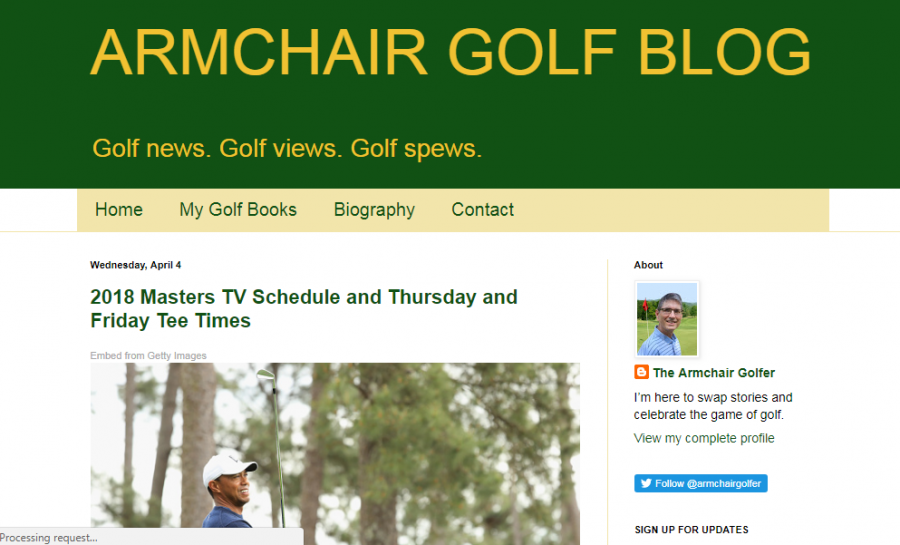 14. Armchair Golf Blog
Founded in 2005 by Neil Sagebiel, Armchair Golf Blog is one of the original golf blogs, and it's also one of the best. Beginning as an experiment, Sagebiel has written two great books, one of which includes a forward by the great Jack Nicklaus and the iconic Tony Jacklin. Featuring over 3,400 blog posts, Armchair Golf Blog includes insightful interviews and discussions on many of the global professional tours. One of the most consistent bloggers, we're looking forward to another decade of the Armchair Golf Blog.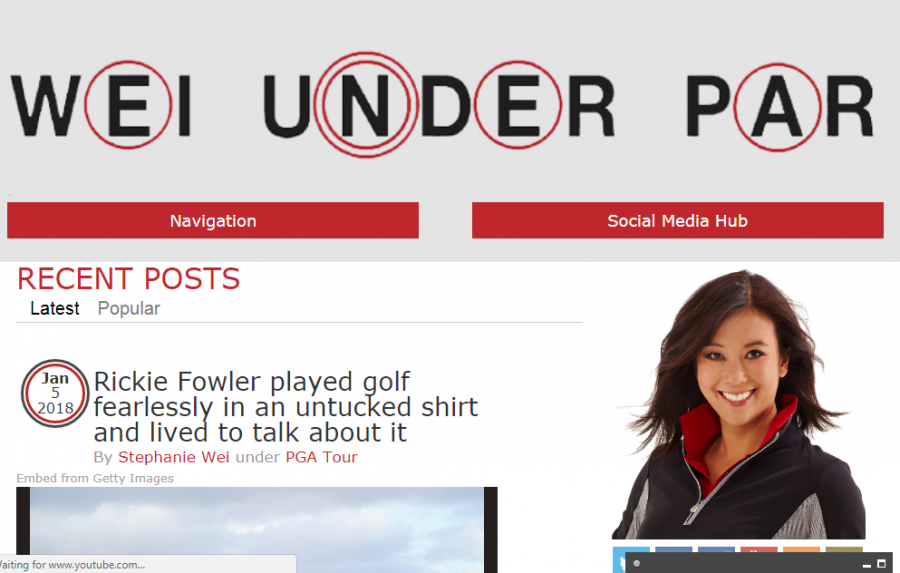 13. Wei Under Par
Written by golf broadcaster, writer and blogger Stephanie Wei, Wei Under Par is one of the leading golf blogs in the industry. Providing great updates and podcasts about tours and knowledgeable course reviews, Wei Under Par gives a fresh perspective on what's happening in the golf industry.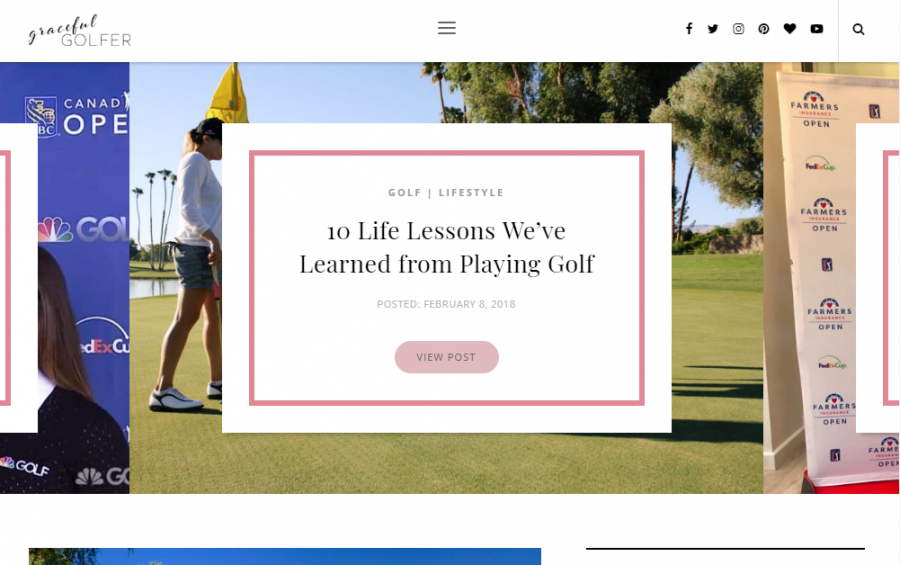 12. Graceful Golfer
After meeting while playing professional golf, Anna and Armana decided to found Graceful Golfer. Sharing their passion, and travels, the blog aims to encourage more women to play golf. Featuring insightful interviews with leading female professionals and helpful tips to improve your game, the blog covers all aspects of the game. Expect to see updates from the golf industry mixed with golf fashion posts and even beauty guides for the course!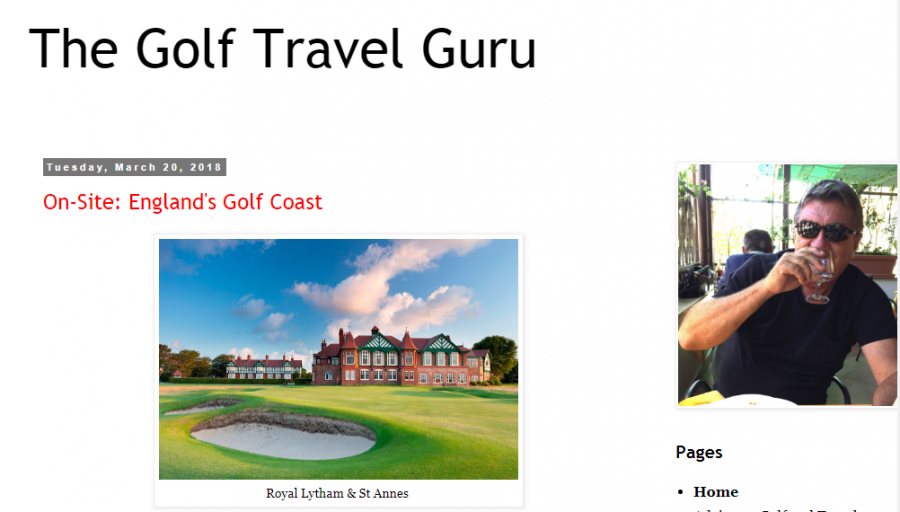 11. The Golf Travel Guru
If you dream of playing golf all over the world, the Golf Travel Guru is the blog you should be reading. Travelling the globe for nearly three decades, the Golf Travel Guru shares the best golf holiday tips. Featuring insights into courses in Scotland, Morocco, Ireland, China, the Canary Islands and more, it's great for getting inspiration for your next golf trip. In addition to his great course guides, expect posts on the "Top 10 Golf Buddy Tip", the "Top Five Airline Booking Sites" and other travel tips that can make your golf holiday go smoother.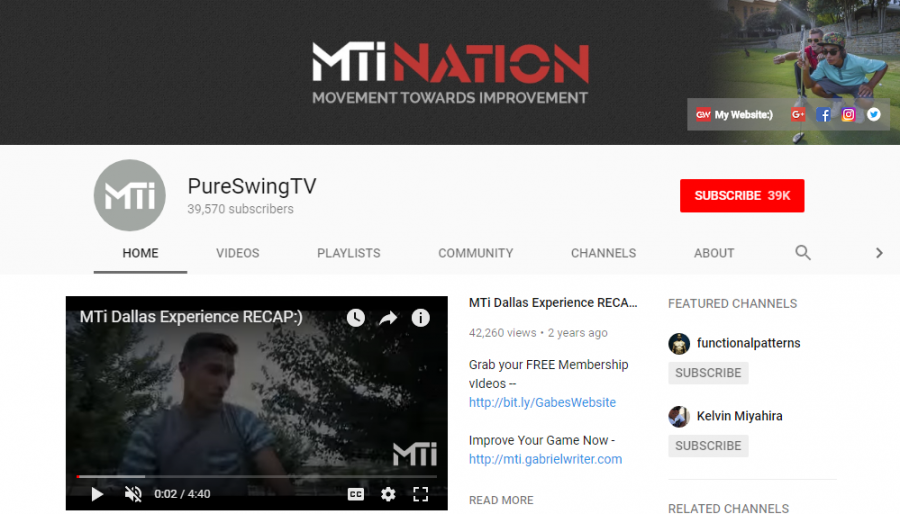 10. PureSwingTV
Powered by an incredibly positive mental attitude, Gabriel Writer created Pure Swing TV to show that anyone can improve their game if they are willing to learn and practice. Focused on the PGA Tour, expect course vlogs, reviews, interviews and instructional videos.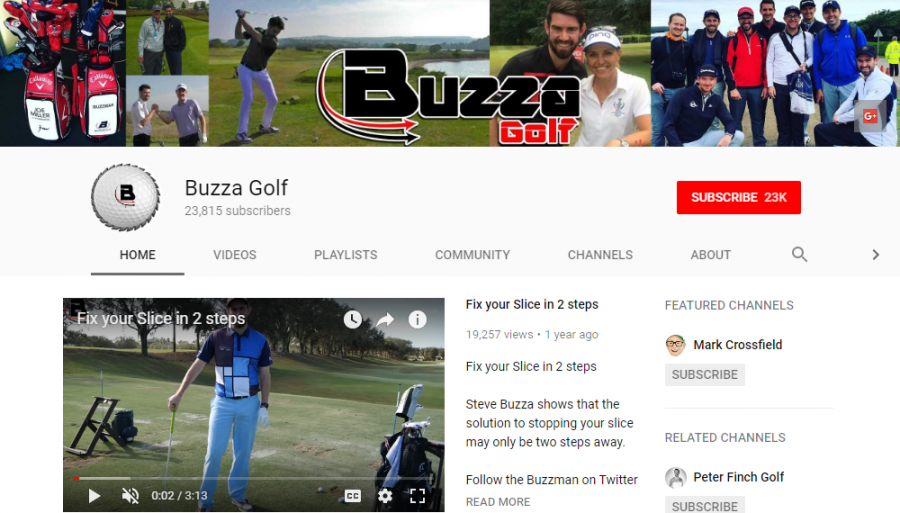 9. Buzza Golf
Steve Buzza is a professional golfer and sports scientist with a highly entertaining YouTube channel. Creating helpful instruction videos like "How to hit a Punch Shot"Buzza makes it possible to improve your play wherever you are. In addition to helping subscribers, Buzza Golf also features fun challenges, equipment tests and course vlogs.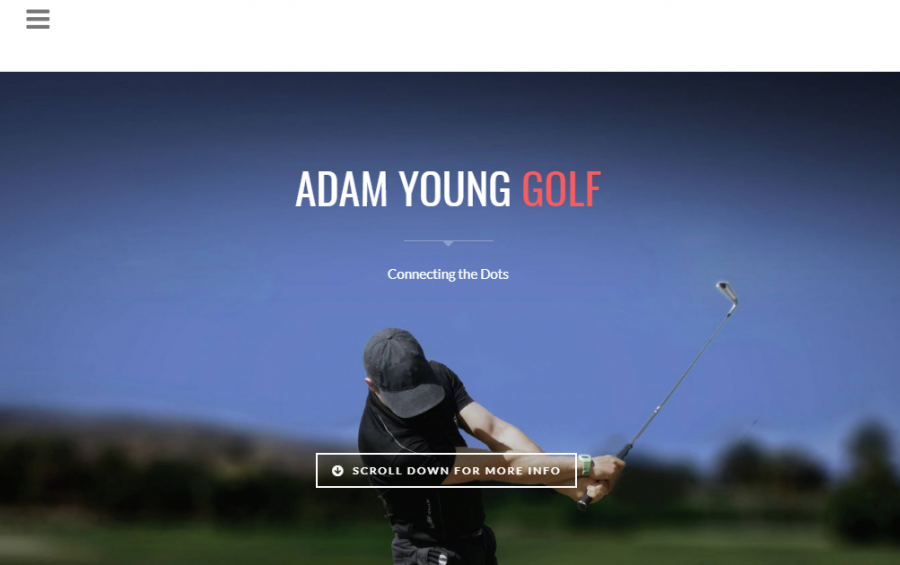 8. Adam Young Golf
Armed with a passion for teaching and learning, Adam Young has developed an impressive knowledge of motor learning and brain function. Combining this research with his golfing experience, Adam aims to develop golfers' skills and techniques to benefit their game as a whole. 
Teaching at one of Europe's most prestigious resorts (La Manga Club in Spain) Adam's blog provides practical tips mixed with a few opinion pieces. A great resource for anyone looking to improve their game, Adam also offers online coaching and two different online programmes designed to take your golf to the next level.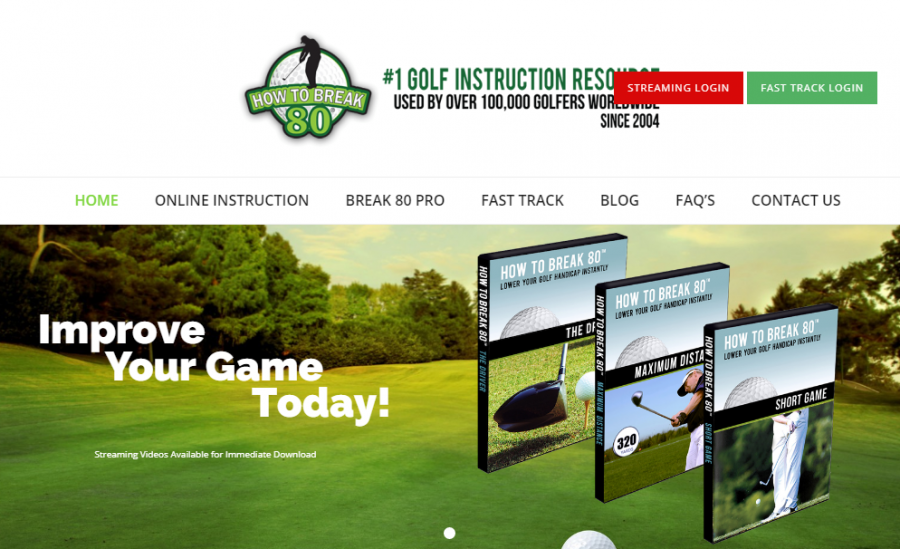 7. How to Break 80
Written by Jack Moorehouse, How to Break 80 is the blog for competitive golfers. Whilst we all enjoy keeping up to date with the latest tour updates, this blog bypasses tournament news in favour of technical know-how. With only 5% of the world's golfers breaking 80, How to Break 80 aims to make you one of the lucky few. 
Whether you want to master your swing, perfect your sand escape or add a backspin to your chip shots, you can find out how and much more on the blog. In addition to his blog, Moorhouse has also written a book and has created a monthly membership programme to accelerate your learning.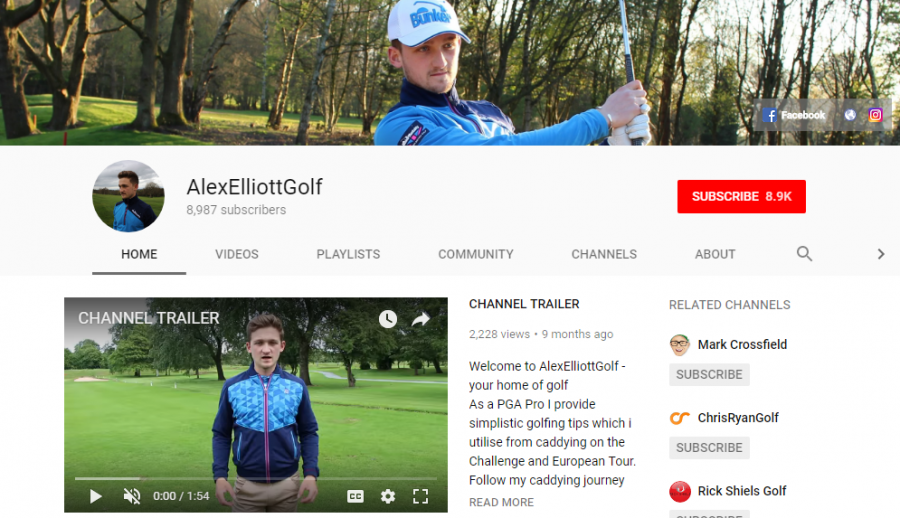 6. Alex Elliot Golf
Previously a caddy for Simon Dyson and Tom Murry on the European and Challenge Tours, Alex Elliot has developed incredible course management and coaching credentials. Passionate about all aspects of golf, his YouTube channel covers everything from how to stop hitting behind the ball to how to get rid of first tee nerves. Ideal for anyone who wants easy-to-follow advice that will improve your game, Alex Elliot Golf is one to watch.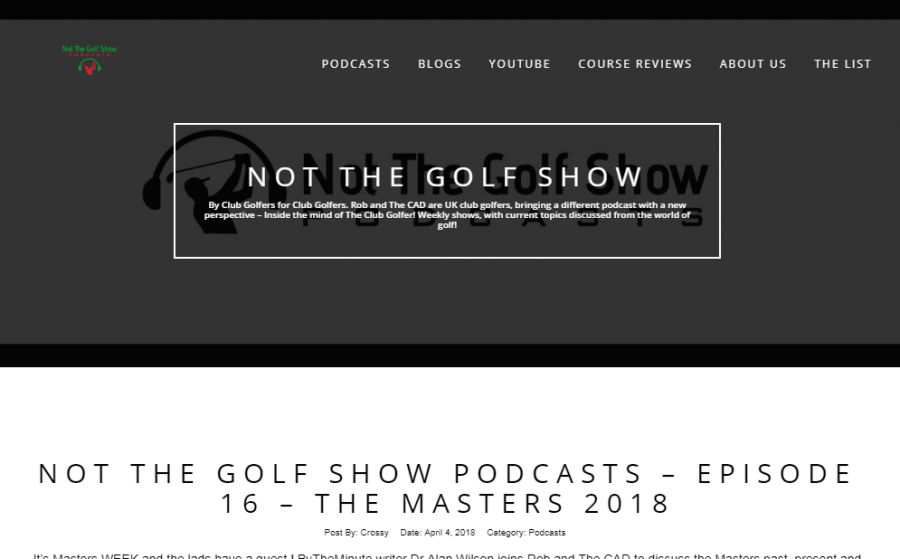 5. Not The Golf Show
Offering blogs, YouTube videos and podcasts, Not The Golf Show covers all platforms. Created by Crawford Anderson-Dillion and Robert Cross, the blog is a must-read, listen and watch for those who play, or want to play, golf in England, Ireland and Scotland. Both club golfers, the podcast aims to discuss current topics from the world of golf with a refreshing perspective.

The blog is equally entertaining and both Crawford and Robert are great writers. If this wasn't enough, their passion shines even more through their flourishing YouTube channel, with previous videos including equipment reviews and fun challenges. A great light-hearted blog, this is the perfect option for enthusiastic club golfers.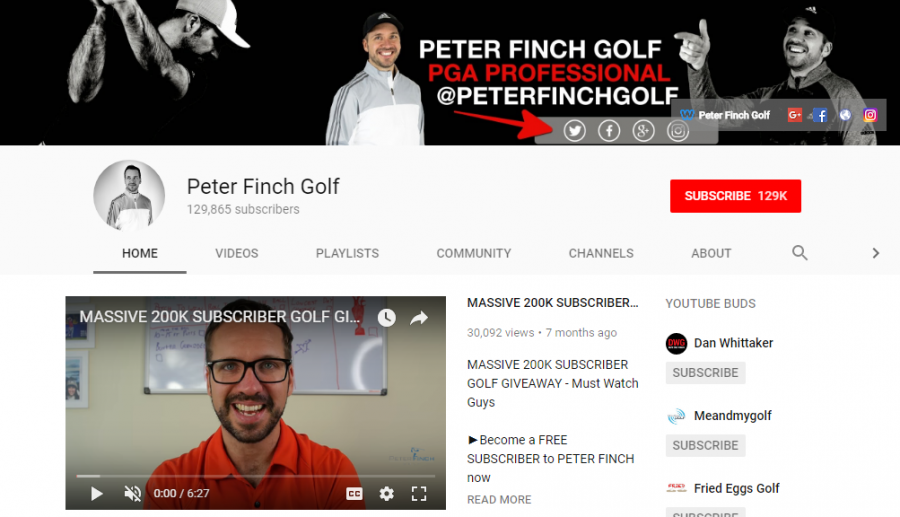 4. Peter Finch Golf
Manchester native Peter Finch is a golf coach at Quest Golf Studio in Burnley and is dedicated to training and coaching golfers of all abilities. Including instruction videos and course vlogs, Peter is one of the most entertaining content creators around. Apart from providing hints and tips, he also offers practical advice such as "What's better, range or on course golf coaching?"course vlogs and equipment reviews. Providing the latest golf updates and fun challenges, Peter Finch Golf is one of the best golf channels on YouTube.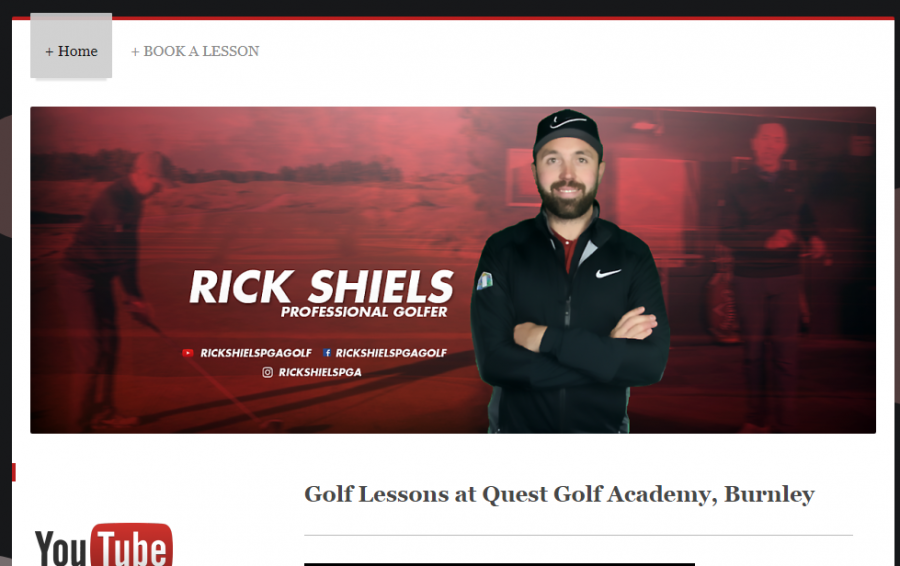 3. Rick Shiels Golf
Another PGA Golf Coach and Golf Professional from Quest Golf Academy, Rick Shiels has gained a reputation as one of the best coaches regardless of skill level. Featuring helpful comparisons of both courses and equipment, Rick helps golfers improve their game whilst having fun. One of our favourite videos is a comparison of a 1998 Golf Ball and a 2018 Golf Ball. Want to know the difference? You'll just have to watch the video!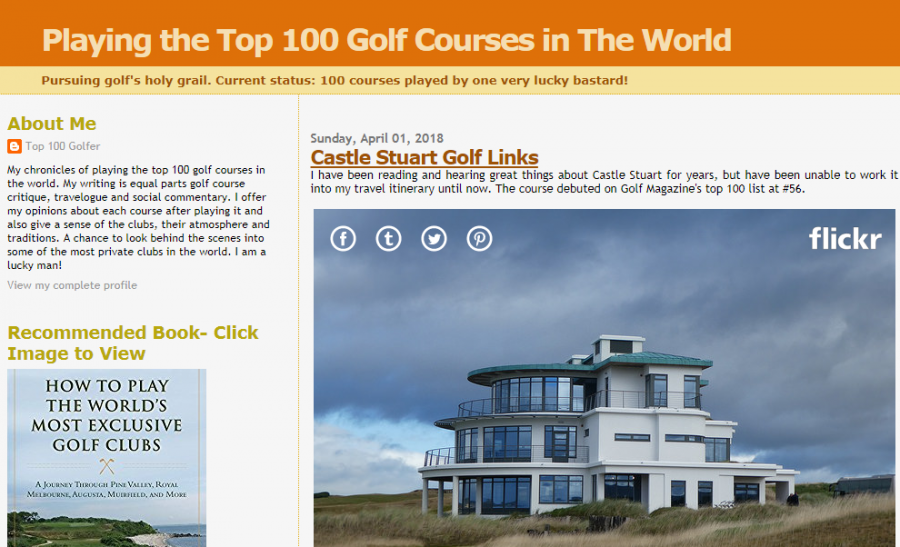 2. Top 100 Golf
If you've ever dreamed of playing a top golf course, Top 100 Golf is worth a read. Chronicling a single golfer's mission to play the top 100 golf courses in the world, this blog is "equal parts golf course critique, travelogue and social commentary". 
Including detailed descriptions, great photographs and insights into the club's atmosphere and traditions, it is the ultimate guide to some of the most exclusive golf clubs in the world. Having now completed the mission, Top 100 Golf still publishes golf course reviews, the locations of which span the globe.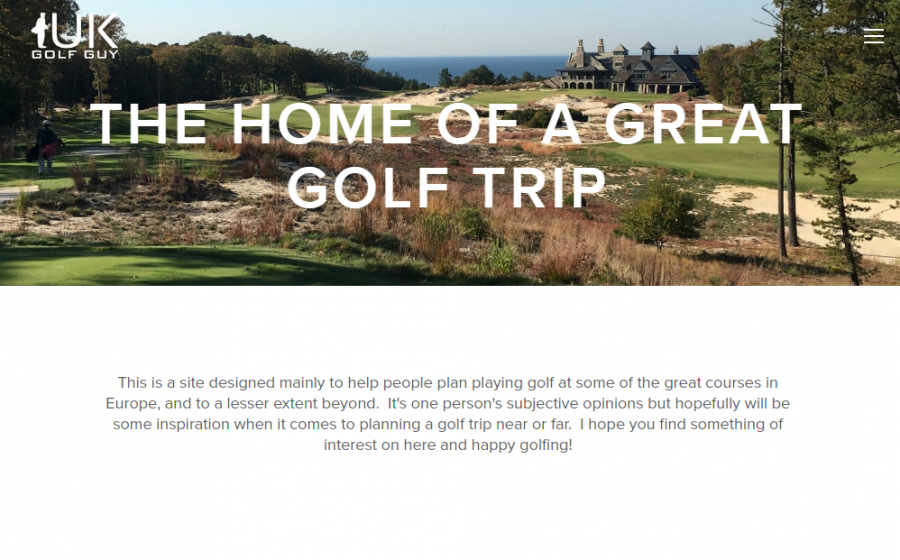 1. UK Golf Guy
Designed to help people play in some of the best courses in Europe, UK Golf Guy shares inspiration and opinions that are perfect for planning your golf holiday. Whether you are looking to play in Ireland or Scotland, or venture into France or Portugal, UK Golf Guy has rated some of the top golf clubs to make deciding where to play much easier. 
In addition to his well-thought through rating system, UK Golf Guy also posts great industry updates, new equipment reviews and general golf inspiration. Expect to see posts ranging from UK Golf Guy's search for the perfect golf iron to discussing the USPGA broadcasting 'omnishambles'. Essentially, UK Golf Guy Blog is the perfect all-rounder.
We hope you have discovered some new top golf bloggers. If their golf course reviews have inspired your next golf holiday, get an instant quote for your golf holiday transfers from Golf Drives. Golf Drives will transfer you from the airport to the hotel, the hotel to the course, and back again! 
If you have any questions at all, visit our FAQs page where should find your answer. You can also reach us here.